Swim Lessons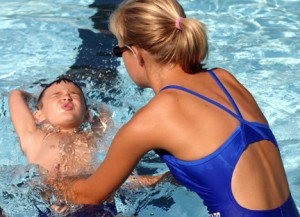 The Queensbury Parks & Recreation Department offers swim lessons year round. Indoor lessons are conducted at the Queensbury Elementary School pool from September to April and summer outdoor swim lessons are held at Gurney Lane Recreation Area late June to mid-August. Youth (ages 3-16) swim lessons are taught the American Red Cross – Infant/Parent & Toddler Parent Swim Lessons and Learn-to-Swim Levels 1-6 progressions and are taught by department-trained swim lesson instructors and swim aides, overseen by a certified American Red Cross Water Safety Instructor. Class swim lesson participant to instructor ratios meet or exceed American Red Cross recommendations and are overseen by an onsite lifeguard. In addition to youth swim lessons, the department offers Infant/Parent (6mos.-18mos) & Toddler/Parent Swim Lesson(19mos-36mos.) classes. These half-hour classes have the parent and child interacting and learning through guided in-water exploration.
No Adult Lap swim on February 19th, 20th, 21st 2019

Family Swims will begin Saturday November 10th. No Family swim on Febraury 16th & 23rd 2019.